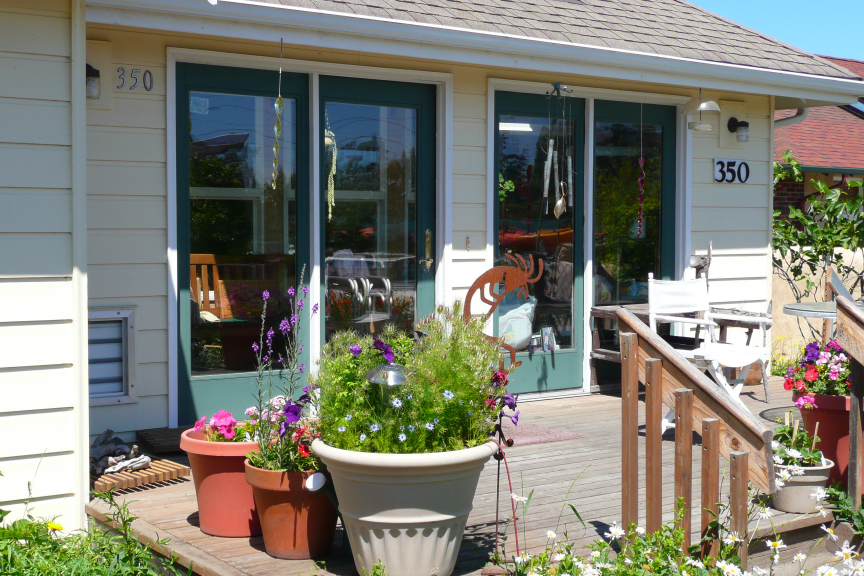 RoseWind has a charming 2 bed 2 bath home for sale right next door to our Common House, on the south edge of our central Commons. The one & half story house was built in 1995 on a standard 50'x100′ lot, has approximately 1600 square feet of finished & heated space plus a 392 sq. ft. unfinished half basement accessible from the north yard. The house siding is durable Hardi-plank.
The main floor has a generous sun porch/greenhouse entryway with excellent passive solar, a well-lit south side dining nook, a bright kitchen with custom birch cabinets, laminate counters with tile back-splash, and a living room that features a sustainably harvested "Brazilian mahogany" wood floor, and a handsome glass front propane heating stove. Also on the first floor is the master bedroom and full bath with both hall and bedroom entrances. There is a pantry closet under the stairs, and a small laundry room alongside access to the more recently added bonus room suitable for a home office or guest room.
Upstairs is a master suite consisting of a large bedroom, the second full bath, and a walk-in closet. The upstairs room has a sliding wall that can be opened to overlook the living room below.
The stairs are carpeted and feature a tall view window with a generous built in seat. Both bedrooms have a durable wood laminate flooring in excellent condition, fairly recently installed.
The basement is clean and dry, and gets a little daylight from a window at the outside entrance. It features sturdy storage shelves and a built in work bench.
The wooden entrance deck needs work. The front yard is sunny and fenced, but restoration is needed to revitalize some attractive small trees, shrubs, and lovely roses. The lot has a productive fig tree and an Italian prune plum tree which also bears fruit. The smaller back yard borders the the large central commons, with its grassy field, wild rose thickets, playground and food gardens.
Asking price is $425,000.
Address is 350 Umatilla Avenue, Port Townsend, WA