The Common House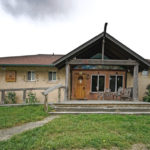 Our common house is a one story, 2800 square foot building created with the help and creative touches of much volunteer labor. It includes comfortable spaces for formal and informal gatherings, cooking and dining, recreation, and youth and children's activities. We have an excellent kitchen and lovely well-lit dining area.  Each Monday two or three of us cook dinner for all to share, and we gather often for potluck meals. In addition, we meet in the Common House for discussion circles, business meetings, holiday meals, workshops and parties. A separate recreation room is used for ping pong, foosball and a weekly art class. A  cozy smaller room serves for private conversations, committee meetings, TV and movie viewing.  During the warmer months some activities move outside into the walled patio area adjoining our dining room. Members may reserve the Common House for personal social events, and for non-RoseWind events in which they are involved, such as house concerts, potlucks or meetings of local organizations.
Our Commons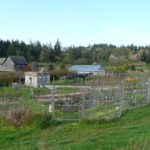 Our Commons is a car-free central area bordered with single-family home sites. This land contains small, dense thickets of wild rose, snowberry and hawthorn, as well as a common garden, children's play structure & play house, and lots of grassy open space. Currently one section of the Commons is designated a Sculpture Garden, while another has low perimeter fencing for RW members to supervise their dogs off-leash. We also have a number of smaller, non-contiguous common areas (our "local commons").
Our abundant community garden is centrally located in the Commons. RoseWind members are welcome to join the group gardeners, who pay a skilled organic farmer to lead their efforts. We regularly win many blue ribbons at the county fair for our beautiful and tasty organic produce. Vegetables flourish much of the year in the fenced common garden & greenhouse. Crops that deer find unattractive are grown outside the fence. The community greenhouse is hot enough to produce delicious tomatoes and peppers in the summer, and it extends our growing season for salad greens from early spring through late fall.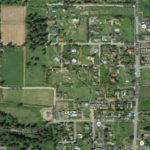 We have also planted and maintain perennial crops, generating an abundant harvest shared by the whole community. Rhubarb, raspberries, strawberries, artichokes and asparagus are grown in the common garden. Our plum, apple, and pear trees are managed in three small orchards.